ELECTROCOAGULATION
A large number of industrial processes are dependent on recycled and reusable water for their operations. Management of wastewater is essential for increased productivity and greater efficiency. Treated wastewater also protects the environment and benefits the ecosystem. Considering the need for wastewater treatment, after an extensive research work, Maxim Solutions has developed one of the finest, robust and versatile technology known as Electrocoagulation.
---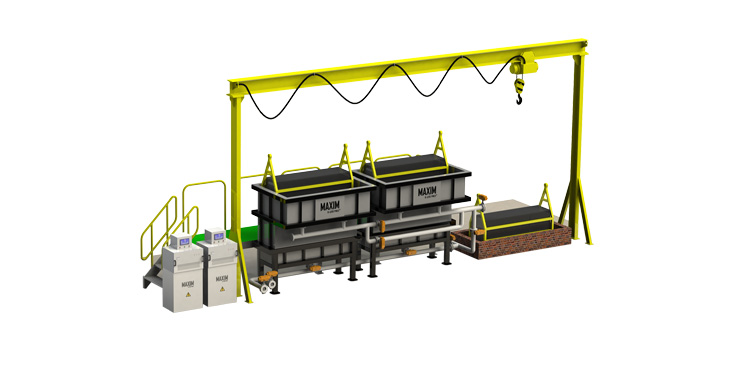 Electrocoagulation System Manufacturers in India
MAXIM ELECTROCOAGULATION SYSTEM E-LITE PRO
Electrocoagulation is an efficient and proven system used to treat wastewater impurities using electricity and a combination of electrode materials. Wastewater may contain colloidal particles, suspended matter, and dissolved matter. During electrocoagulation, electricity is passed through the effluent that needs to be treated, destabilizing the dissolved and colloidal particles. This process alters the charge on suspended matter enabling electrocoagulation, electro-oxidation, agglomeration, flotation, and removal.
---
PROCESS DESCRIPTION OF E-LITE PRO
Electricity is passed through the effluent to be treated. The process involves the electro-dissolution of sacrificial anodes that lead to the formation of hydrolysis products. This, in effect, results in the destabilization of Waste water pollutants. Whereas, waste water goes through an electrochemical reduction producing hydrogen bubbles at cathodes that bond with the pollutants . This helps in removing and oxidizing suspended solids, heavy metals, organic and inorganic compounds from the waste water.
---
MACHINE ARRANGEMENT OF E-LITE PRO
Maxim E-LITE PRO has a modular design based on the understanding and research of conventional EC systems, while simultaneously customizing it as per the industrial requirements of specific waste water treatment. The Maxim E-LITE PRO is easy to install, operate, and relocate.
An electrocoagulation reactor consists number of anodes and cathodes, immersed in the solution to be treated, connected to an external power source. The anode material goes through electrochemical corrosion due to oxidation. The cathode undergoes passivation due to reduction.
The electrocoagulation system has pairs of conductive metal plates in parallel, acting as mono-polar electrodes. In addition, it requires a direct current power source, a resistance box for controlling and regulating the current density and a multimeter to study the current values. The conductive metal plates are named as sacrificial electrodes. The sacrificial anodes and cathodes can be of the same or different materials.
---
HOW E-LITE PRO EC IS DIFFERENT?
E-LITE PRO system is powerfully designed on appropriate power densities, surface area, and hydraulic retention time for higher efficiency in the removal of pollutants with minimum electric consumption. The thickness of electrodes is selected keeping in view the wastage of metal on the replacement. Here is how we stand out:-
1. FLEXIBLE, MODULAR & EFFICIENT DESIGN.
2. PRODUCTIVE MACHINE ARRANGEMENT.
3. REDUCED RISK OF FAILURE.
4. EASY OPERATION, EASY CLEANING, AND REPLACEMENT OF ELECTRODES.
5. ECONOMICAL DESIGN WITH MAXIMUM POLLUTANT REMOVAL EFFICIENCY.
6. COMPLEMENTARY PRODUCTS TO ENSURE REMOVAL OF FLOATING SLUDGE.
E-LITE PRO SPECIFICATIONS
We conceptualize, design, Manufacture and Install for various flow of wastewater varying from 50 KLD to 5 MLD,
for further enquiry please feel free to contact